Ayahuasca, traditional use…effects and experience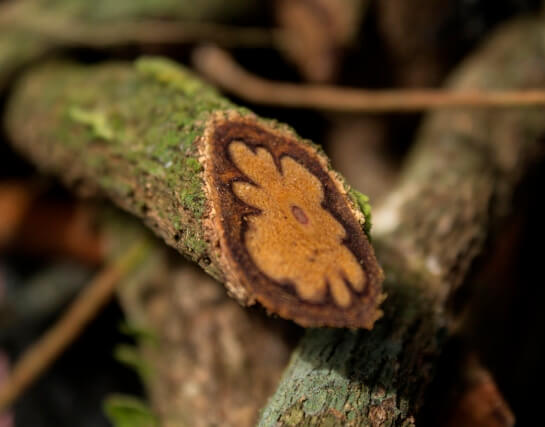 Scientific name: Banisteriopsis caapi Morton
Botanical Family: Fabaceae
BOTANICAL DESCRIPTION
Perennial, large climbing vine; gray or brownish color, thin branches; with long, snarled stems, about three inches in diameter, bright grey or brown color, with well separated internodes. The entire opposite leaves, petiolate, ovado lanceoladas, are uneven at the base, hairless on top and slightly hairy on the underside, 8-18 cm long and 4-8 wide; the auxiliary inflorescences, mimoso  paniculadas, are small flowers, of about fourteen millimeters, with yellow-pinkish petals, arranged in small umbrellas. The fruit (coriáceas y sinuosas) has a seed pod bearing wings, which are easily dispersed by wind.
TRADITIONAL USES
It is used like an aphrodisiac , to combat alcoholism, as a hallucinogen in traditional medicinal practices (cleanliness of body and soul), local anesthetic, detoxifying, memory stimulation, as a laxative, for leishmaniosisin Parkinson's disease, as a nerve restorer, for stress and nausea.
• As aphrodisiac and tonic of the nervous system.
Traditional use: It stimulates sexual desire in men and women and revitalizes the nervous system.
Preparation: Boil two kilograms of vine in two litres of water, until reduced to one litre.
Administration: Oral.
Dosage: Take one drop daily for three months.
Diet: Do not eat eggs, pepper, pork, sausages and don't drink liquor.
Recommendations: Take the dose before bedtime. The extract can be stored under refrigeration or naturally in a cool, dark place.
• As a hallucinogen, detoxification and laxative.
Traditional use: Develops intuition, amplifies the psychological state of  people, clean bodies and treats psychosomatic illnesses.
Preparation: Prime 20 kilograms of vine, cut into small pieces and beat until they start releasing the juice, then place in a pot of about 50 litres of water, add a  little vine and add up to 200 chacruna  leaves,  Sprinkle five tobacco leaves, or 5 cigarettes wrapped in 10 tobacco  leaves from the bottom,  then another layer of ayahuasca and finally add water until the plants are covered, boil using fire made from an abundance of wood from the red  "capirona" tree, (Calycophyllum spruceanum) the first stage lasts for 6 hours; when it has reduced by half, remove the liquid into a bowl, add water again until it covers the plants and follow the above procedure. Repeat the process three times, then the three different liquids from the three different stages are emptied into a pot, together with 200 chacruna leaves, which are boiled and refined, during this process they must be reduced by half, then strain and refine by adding rose petals, when it has halved and the liquid is viscous similar to jam, remove from heat and strain to get the brew.This cooking process takes about 20 hours, over a high temperature.It is noted that each teacher has their own formula, ingredients and method of preparation of the brew.
Administration: Oral.
Dosage: Take a glass of approximately 50 milliliter's, depending on the disease, in most treatments the dose is determined by the healer or shaman.
Diet: On the day of collection you should not consume irritating foods, liquor, fatty meats, condiments and you must be careful for a further fifteen days.
Recommendations: It must be consumed by people who have the desire to do so.
Preparation: It can be stored for over a year, but must be boiled before reuse; it is preferable to consume the fresh preparation.
• As a local anesthetic, stimulating memory in Parkinson's disease and stress.
Traditional use: Blocks sensitive areas of the body that require local anesthesia, tones memory and help people with diseases of the nervous system.
Preparation: Same as above preparation.
Administration: Oral.
Dosage: Take on a drop in a half glass of water on the first day and increasing daily until taking seven drops in a half a glass of water, then lower the dose in the same way until you are at the beginning, with just one drop; The treatment lasts fourteen days.
Diets: Do not eat egg, pepper, pork, sausages and don't drink liquor.
Recommendations: Take the treatment before going to sleep. The extract can be stored under refrigeration or naturally. Store in a cool dark place.
Important note: We do not sell extracts or drinks from ayahuasca or any other sacred ground, we respect the use of these sacred plants, and initiations must be properly accompanied by shamans or spiritual beings with the right experience.
Handicrafts with ayahuasca