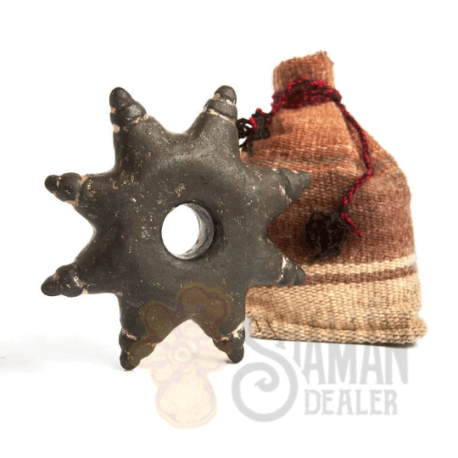  
8 points Khuya "Meteorite" Star Stonefrom Cusco
Misha Khuya very important for your ceremonies.
EIGHT POINTS KHUYA STONE FROM CUSCO
The eight-pointed star is one of the main stars of the constellation of our universe (feminine energy in the "Kausay = life" and is related to the beginning of the agricultural year in August and the peasants begin the first sowing of the year, thus I must mention that in this month offerings are made for our mother earth "pachamama" for a better omen in the new harvest next year, improve their livestock, prosperity, health, study and work etc. this offering is associated with the invocation of the prayer to the eight-pointed star called Chaska Ccoyllor in the Andes.

The eight-pointed star has a lot to do with the female gender because here in the Andes, pregnant women ask this star and "Mama Killa = Luna" that their birth be painless and normal and that their child can be born healthy without any evil for which offerings are also made for this case.

The Chaska K'huya is placed on the altar of the ceremonial tables also called
"Misha K'huyas" of the Master Curanderos = Andean Shamans.
Handcarved in Meteorite stone from Cusco.

* This item is handmade and will each piece are different for just little features but the shape and model is the same.