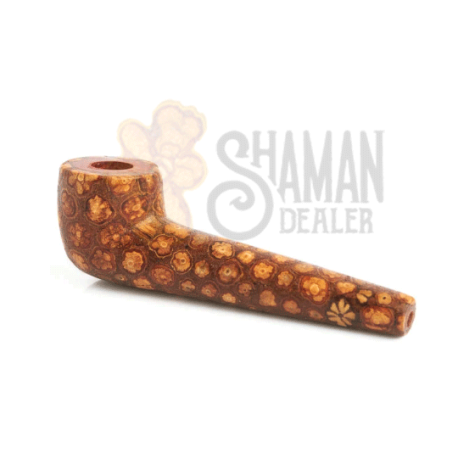  
Little Ayahuasca Pipe from Peru
A beautiful pipe that can be used for smoking tobacco or Mapacho.
Is a beautiful pipe, handmade from ayahuasca, each piece is crafted by Quechuan craftsman, using a process handed down through generations, the process is very long and laborious, about 5 working days to make one of these fine pipe, they are very unique, very beautifully crafted.
Shown in the reference picture, the pipes remain maintain the same form but have variations in the way the ayahuascas looks.
The ayahuasca with which they are working is grown in the ayahuasca forest, which is why the product sustainability is guaranteed.
Permission is asked from the grandmother in a ceremony that can be cut and used in the craftsmanship.
Process :
Drying, Cutting, Gluing, Polishing and Varnished with natural resins.
Contain :
1 ayahuasca wooden pipe 10 cm or 4.2 inches large.

Packing :