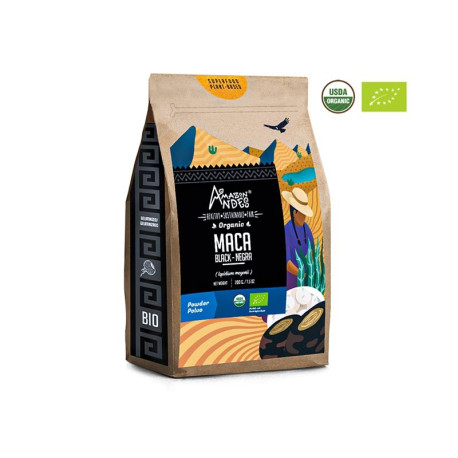  
Gelatinized black maca powder (200 g 7 oz) Organic NOP, EU, JAS and kosher
The Endocrinology and reproduction department of the UPCH Science and Philosophy Department confirms that the number of spermatozoa in the epididymis and their motility increases due to black maca.  Increases physical resistance.

BENEFIT OF GELATINIZED BLACK MACA POWDER :
Black maca contains a higher concentration of proteins, fibre, selenium and bioactive
substances, such as the glucosinolates, in a higher concentration than the other ecotypes.
Differences in the effects of the black, yellow and red maca varieties have been
demonstrated. Black maca has given better results in spermatogenesis, memory and
anti-fatigue. Additionally, maca reduces glucose levels and its consumption is related to
the reduction in arterial pressure and an improvement in health. Experimental studies
have shown that neither short-term nor long-term consumption show toxicity both in
vivo and in vitro.
Composition: 100% Organic Gelatinized black Maca powder
Scientific name: Lepidium Meyenii, Walp
Part used: sun-dried roots black Maca.
Source: Junín Peru
Use: Adults:  Take 1-2 teaspoons and add to milk or in water.
Contraindications: Not recommended during pregnancy and breastfeeding.
Warning: The effects of this product is backed by empirical experience of ancient traditional medicines, with excellent results and the absence of harmful side effects if given within the correct dose. The information listed identified here is by no means an ordinance or a prescription, the use of these natural products does not replace a medical consultation.
Certifications:
USDA NOP,  EU, JAS and KOSHER organic
 DIGESA Peruvian health ministry
 Chamber of commerce of Lima