 
Mapacho Cigars chicos 50 units - Nicotiana Rustica
these Mapacho cigars are made entirely by hand.
truly being the first ladder for the intrepid and daring person of curiosity, to enter the passionate and multicolored world of cigars and the pleasure of savoring different aromas and textures of flavors.
It's our Premium cigar, exquisite flavor, hand-rolled whole leaves of mapacho leaves wich characterize this great product.
100 % Organic and Natural.
Sown and hardvested by shipibo natives.
Scientific name : Nicotiana Rustica
Origin : Tarapoto - Peru
Size : Large : 10.50 cm
Cepo :  26 ( 1.1 cm )
1 Box contain : 25 units
Packing : Cardboard Box or Bubble pouch bag.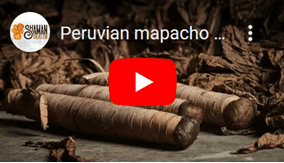 ATENTION AUSTRIA, AUSTRALIA AND SPAIN CUSTOMERS :
DHL EXPRESS is not available for you country, if you choose dhl express will be shipped by economic shipping.


Mapacho Cigars for sale online directly from Peru