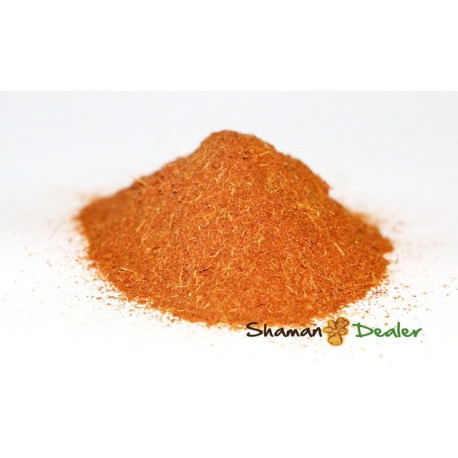  
Cat's claw, uncaria tomentosa bark powder from Peru 200 g
A traditionally used by shipibo natives for more than 2000 years within folk medicine because of its goodness.
Cat's claw is used by the indigenous peoples of the Amazon rainforest in very similar ways and have long histories of use.
Cat's claw has been used medicinally by the Aguaruna, Asháninka, Cashibo, Conibo, and Shipibo tribes of Peru for at least 2,000 years. The Asháninka Indian tribe in central Peru has the longest recorded history of use of the plant. They are also the largest commercial source of cat's claw from Peru today.
The Asháninka use cat's claw to treat asthma, inflammations of the urinary tract, arthritis, rheumatism, and bone pain; to recover from childbirth; as a kidney cleanser; to cure deep wounds; to control inflammation and gastric ulcers.  
Other Peruvian indigenous tribes use cat's claw to treat diabetes, urinary tract cancer in women, hemorrhages, menstrual irregularity, cirrhosis, fevers, abscesses, gastritis, rheumatism, tumors, and inflammations as well as for internal cleansing and to "normalize the body."
Preparation : 
simmer 10 to 12 grams of cat`s claw bark in a liter of water for 10 minutes (until boiling), strain and  pour in a cup.
Scientific name : Uncaria Tomentosa

Part used : Dried bark

Origin : Iquitos - Peru
Contain : 
200 g powder of cats claw ii a sealed bag
Packing :
Cardboard box or bubble pouch bag
 Reviews (2) - Review moderation 
---
By Bryan C. the 2019-11-12
This review was helpful



0

- 

0




You've already voted
Customers who bought this product also bought: