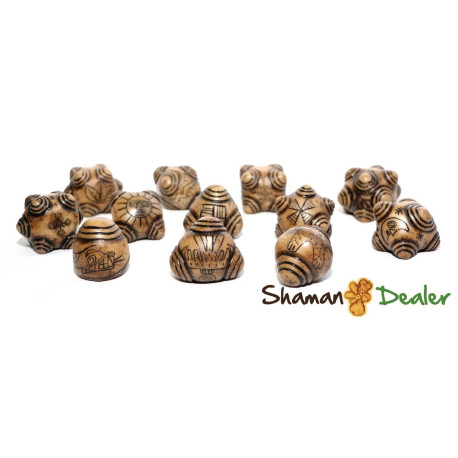  
Chumpi khuyas Alabaster Shaman 12 STONES SET(mastana, florida water, rattle, etc)
12 alabaster chumpi khuyas stones for reiki healing and practice energized by the andean sun.
The chumpi khuyas energy stones, are stones used by a line of Andean shaman, who work with ñawis (chakras) and the energy structure called chumpi (power strips).
Every Ñawi and chumpi has an assigned corresponding energy stone, which are distinguished by their shape (for example, the number of sides, two three or four) or recorded or containing drawings, the total number of khuyas is usually five, seven or nine.
See our video: Chumpis origin and Andean Reiki
The ideal material from which they are made is red or black hematite ore, having high strength and magnetic properties such as glass and magnetism at the same time, they can be found in soapstone and alabaster (Huamanga Stone), which was easier to work with.
The khuyas are used to open ñawis (ñawi kichay), and to extract the savings (designed energy), and then close them; and to weave chumpis (chumpi away), i.e. fill the cracks and strengthen our energy body (poqpo) to create an energy envelope (walthay) that conveniently protect us.
Before using the stones for any purpose they must be cleaned, in the Andean world the stones have identity, vitality and energy and therefore deserve attention and even intangible affection. In this regard the khuyas stones come alive; there are ways to purify them.
For example:
Let them stand in the light of the full moon, to clean and to recharge them with energy (Sami energy).
Allow drops of tap water, from the bath or shower.
Leave cardboard wrapped in letter or in the refrigerator overnight, the cold has a purifying power.
Let the stones stand at dawn (at sunrise), for an hour.
While this is being done, you can meditate and visualize different ways of channeling the energy that falls on the stones, accepting the Sami energy (pure energy) as an everyday routine.
For those familiar with the practice of reiki, which is meditation and guided visualizations, there is a psychic form that can be applied to the stones, when you have cleaned them and in a meditational position, the stones are held with both hands, and then visualize the above techniques in a mental and energetic way, this method is only possible if the stones have been previously purified by their owner, physically discharging any gravitational force that they may contain.
If we work with an Andean table or (misha) or other power objects, stones are efficient channels for transmitting refined energy, you can even charge other stones for massage or energy work once our khuyas are operational.
The khuyas are only interested in their owner, and the combined affect he receives, in this regard and is not recommended to use the khuyas outside.
4 Farmland with Furrows - Fertility
5 Sun or Inti - Male Energy
6 God of Thunder, Rain, Weather, Chuqui Illa
7 Moon or Mamakilla - Female energy
8 The 4 Directions + Inter cardinal directions
12 Hummingbird or Siwar Q'enti.
Contain :
12 chumpis alabaster stones
12 Protection woven bags for stones
1 Mastana  16 x 14 inches ( the mastana in the photo is referential, not is the same because is a handmace article)
Packing :
Cardborad box or bubble pouch bag