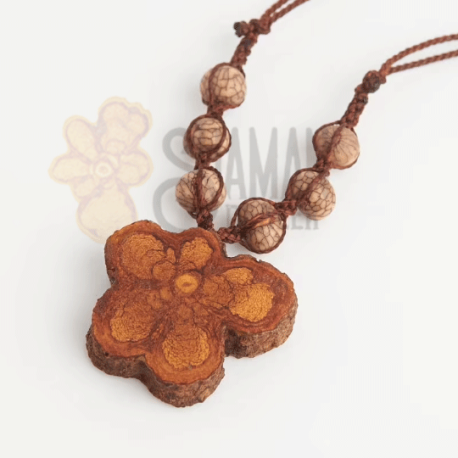  
Ayahuasca Necklace handmade from Iquitos - Peru
A beautiful necklace made of an Ayahuasca slice to protect you always.
Is a beautiful piece, handmade from ayahuasca, each piece is crafted by Quechuan craftsman, using a process handed down through generations, the process is very long and laborious, they are very unique, very beautifully crafted.
Always take the grandmother with you, its a cut piece of yellow vine
The ayahuasca with which they are working is grown in the ayahuasca forest, which is why the product sustainability is guaranteed.
Permission is asked from the grandmother in a ceremony that can be cut and used in the craftsmanship.
The photo is reference, the pipes maintain the same measure but have variations in the shape of ayahuasca by the cut.
Process :
Drying, Cutting, Gluing, Polishing and Varnished with natural resins.
Contain :
1 neklace, Ayahuasca pendant size : 5 cm or 1.9 inches diametre approx.
Packing :
Carboard Box or bubble pouch bag