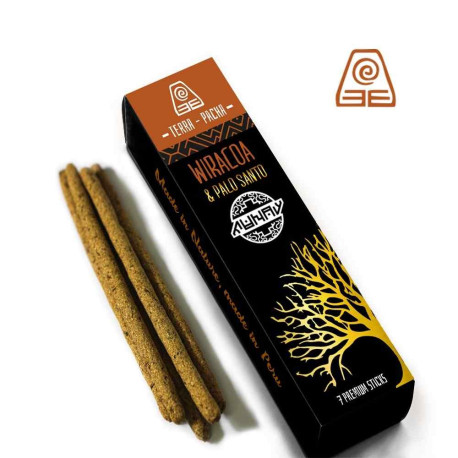  
Wiracoa y Palo Santo Premium Dhoop Incense Stick 7 units
Our Premium sticks are 100% handmade with palo santo wood, resin and vegetable gum.

Each stick burn approximately 40 - 60 minutes.
It is used for bronchial problems, improve memory, dissipate lethargy and helps to eliminate headaches.
It cleanses the environment of bad energies and helps the concentration of the spirit in meditation.
The Earth element (Pacha in Quechua) helps those who are looking for peace, tranquility, money and physical stability in general.
Contain :
7 stick of dhoop incense palo santo ( Bursera Graveolens ),Wiracoa weed and vegetable gum from the fruit of overo (Cordia Lutea Lamarck).

Shipping Package :
Carboard box or bubble pouch bag.
The Palo Santo used to make our rods comes from a source of sustainable resources and has management plans

we have a strong compromise with the sustainability, Visit the video of our reforestation project in the peruvian noth coast: