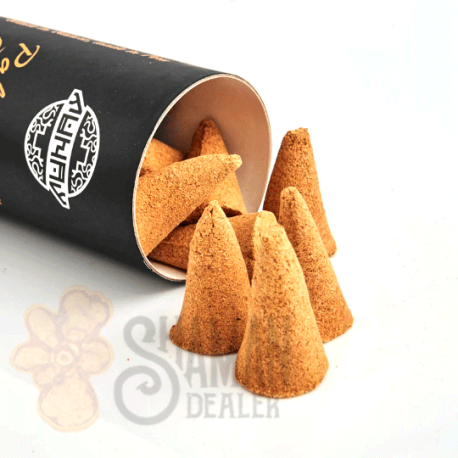  
Palo santo inciense cones 20 units
100% hand made from the heat of the Palo Santo wood, essential oils, natural gums and vegetable charcoal. 
Mystic palo santo cones yield a beautiful fragrance.
PALO SANTO CONES
Palo santo used in shamanic ceremonies in Peru, the use of palo santo reportedly dates back to the time of the Inca Empire. The heartwood of the tree is used, and you can find bundles of palo santo for sale in markets throughout South America. Burning the wood is done to clean bad energy from a place and to promote good fortune.
Please see the link below of our sustainable work with palo Santo products

It is typical and common for palo santo to be burned in a ceremonial setting such as a shamanic ceremony, and often people who attend ceremonies will smoke themselves and each other with this wood.
Being smoked with palo santo feels fresh and invigorating.
Each cone has an approximate burn time 20 minutes.
Contain : 20 cones in a cardboard cylinder
Packing : Cardboard Box or Bubble pouch bag
we have a strong compromise with the sustainability, Visit the video of our reforestation project in the peruvian noth coast: