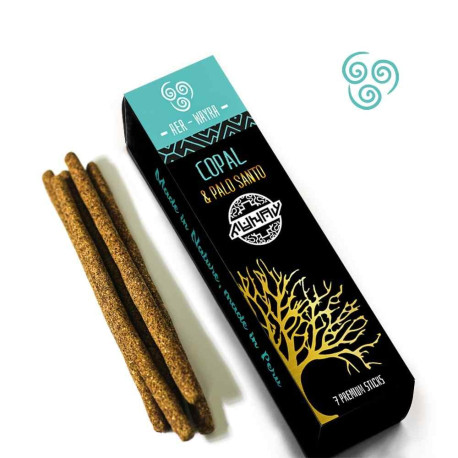  
Copal and Palo Santo Premium Dhoop Incense Stick 7 units
Our Premium sticks are 100% handmade with palo santo wood, resin and vegetable gum.

Each stick burn approximately 40 - 60 minutes.
It has a sedative effect, it is rich in triterpenes that have been shown to help significantly reduce anxiety. Burning this resin activates "ion" channels in the brain, which helps relieve stress and anxiety.

These calming effects of Copal also allow the body to relax and be ready for sleep. They have traditionally used it for a long time to promote emotional balance and calm the nervous system.

It is linked with the crown chakra, deepening the connection to the mystical and transmitting pure thoughts. Copal also helps to strengthen the auric body, helping to eliminate stagnant energy.

Copal is believed to unite the energizing force of the sun with the grounding properties of the earth, drawing out and transmuting negative energy on all levels.

Our handmade Premium sticks of COPAL and PALO SANTO, makes the energy cleaning power even better due to the magical properties that palo santo gives us.
The Air element (Wayra in Quechua) helps those who are seeking to improve communication, the feeling of freedom and knowledge.
Contain :
7 stick of dhoop incense Palo santo powder ( Bursera Graveolens ),Black Amazonian Copal Resin (Dacryodes Peruviana), natural gum from the fruit of overo (Cordia Lutea Lamarck).

Shipping Package :
Carboard box or bubble pouch bag.
The Palo Santo used to make our rods comes from a source of sustainable resources and has management plans

we have a strong compromise with the sustainability, Visit the video of our reforestation project in the peruvian noth coast: