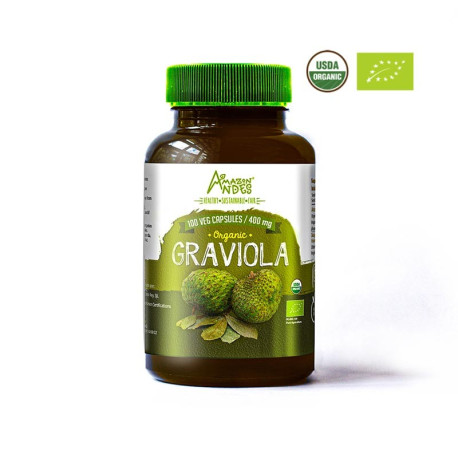  
Organic Graviola capsules 100 x 400 mg
Researchers in the study supported the use of graviola as a popular remedy for pain and inflammatory conditions.
Contains minerals and vitamins such as iron, phosphorus, calcium, vitamin A, B1 and B2. Helps to naturally reduce inflammation and improve joint conditions, strengthen the immune system, improve mood and boost cell health for a perfect addition to a healthy lifestyle.
Composition:
100% organic graviola powder and vegan capsules
Scientific name:
Part used:
Source:
Use:
Adults ; Consume 1 to 3 of graviola capsules per day.
Contraindications:
Not recommended during pregnancy and breastfeeding.
Certifications:

USDA NOP,  EU and kosher organic

DIGESA Peruvian health ministry
Warning: The effects of this product is backed by empirical experience of ancient traditional medicines, with excellent results and the absence of harmful side effects if given within the correct dose. The information listed identified here is by no means an ordinance or a prescription, the use of these natural products does not replace a medical consultation.