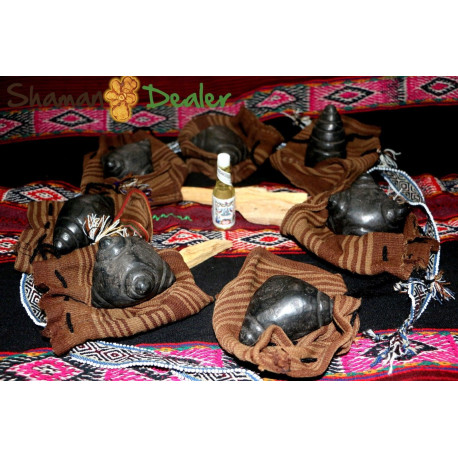  
Huge Chumpi Meteorite Stones Shamans set ( mestana, watana, rattles ).
7 huge stones called meteorite for reiki healing and practice hand carved.
Meteorite stones
For those familiar with the practice of reiki, which is meditation and guided visualizations, there is a psychic form that can be applied to the stones, when you have cleaned them and in a meditational position, the stones are held with both hands, and then visualize the above techniques in a mental and energetic way, this method is only possible if the stones have been previously purified by their owner, physically discharging any gravitational force that they may contain.
If we work with an Andean table or (misha) or other power objects, stones are efficient channels for transmitting refined energy, you can even charge other stones for massage or energy work once our khuyas are operational.
The khuyas are only interested in their owner, and the combined affect he receives, in this regard and is not recommended to use the khuyas outside.
Before working the stones the master craftsmen have to make an offering to Apus and the Astros, they put their hands on this material which has a lot of energy; everything is hand carved and handmade.
See our video: Chumpis origin and Andean Reiki
Before using the stones for any purpose they must be cleaned, in the Andean world the stones have identity, vitality and energy and therefore deserve attention and even intangible affection. In this regard the khuyas stones come alive; there are ways to purify them:
For example:
Let them stand in the light of the full moon, to clean and to recharge them with energy (Sami energy).
Allow drops of tap water, from the bath or shower.
Leave cardboard wrapped in letter or in the refrigerator overnight, the cold has a purifying power.
Let the stones stand at dawn (at sunrise), for an hour.
Very special chumpi stone set made from  the Peruvians stones called meteorite or Hiwaya stone. Energized and powerful!. They are used by the Q'ero peoples of the high Andes and shamanic practioners to convey bands of power and other rites of their lineage. Pieces worked with native shamanic artisan Abelardo Mirano.
Contain :
7 pieces Approx Size: 4" to 3" / Weight :700 - 500 g aprox per stone
7 Protection wool bags for stones.
Mastana 25.7 x 29.3 inches ( the mastana in the photo is referential, not is the same because is a handmade article)
ORIGIN: CUZCO, PERU