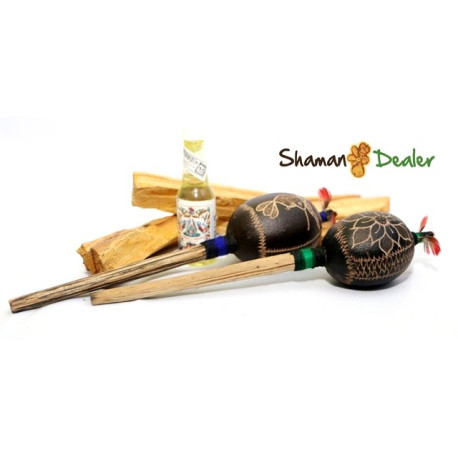  
Shaman holy set of palo santo sticks, palo santo oil and rattles.
Sacred products used by Andean and Amazonian shamans in Peru.
SHAMAN HOLY SET
AMAZON RATTLES :
A very important shaman article for healing session and ceremonies.
Origin : Iquitos - Peru
PALO SANTO ESSENTIAL OIL : 
Our palo santo essential oil is 100 % pure obtained from palo santo wood collected from fallen trees who died many years ago. 
We have a strong compromise with the sustainability, Visit the video of our reforestation project in the peruvian noth coast:
AMAZONIAN BLACK COPAL

Our amazonian copal was used by centuries from the inkas offered burning in gold plates in ceremonies of the sun god.
Contain : 
10 ml palo santo essential oil
50 g Amazonian black copal
Packing :
Cardborad box or bubble pouch bag