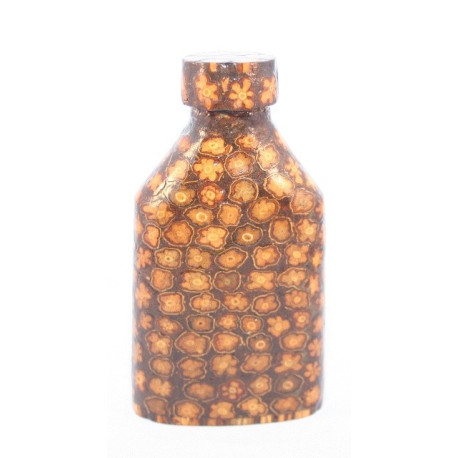  
Ayahuasca Glass Bottle Ceremony from Peru
Ceremony Bottle of Ayahuasca handmade from Iquitos, Amazonian rainforest in Peru.

Each piece is crafted by craftsman whom are  descendants of the Quechua region, in the amazon rainforest of Peru. The work process is very long and  laborious, and takes about 5 working days to make one piece, they are unique and very beautiful products.
A beautiful bottle(glass in the base), designed to keep sacred and mystical products, shown in the reference picture, bottle maintain the same form, but have variations in the shape or cut of the ayahuascas. It ideal for contain your sacred vine.
The ayahuasca with which they are working is grown in the ayahuasca forest, which is why the product sustainability is guaranteed.
Permission is asked from the grandmother in a ceremony that can be cut and used in the craftsmanship.
Process :
Drying, Cutting, Gluing, Polishing and Varnished with natural resins.
Contain :
 1 Empty ayahuasca glass bottle
Packing :
AYAHUASCA GLASS BOTTLE FOR SALE ONLINE