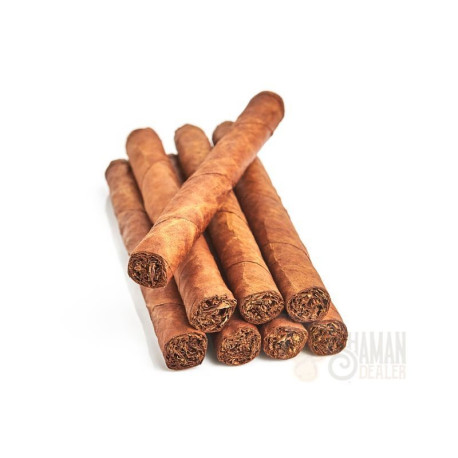  
Mapacho Nicotiana Rustica cigar, Rio Mayo 25 Cigars from Tarapoto - Peru
A box of Premium cigars, medium strong flavor, full and decided from tarapoto - Peru.
This crude Nicotine belongs to the family (Solanaceae). There is reason to believe that the cultivation of snuff for religious and medicinal purposes,including use for shamanic trance, began around the same time that the tropical agricultural forest in South America, approximately makes 6-8000 thousand years ago.
Normally it is thought that the snuff is not able to induce visions, but it was intensely used by indigenous groups they regarded it as the quintessential shamanic intoxication. This kind of snuff is one of the strongest in the world, including its alkaloid content is significantly higher than the (Nicotiana tabacum) it was used exclusively for its entheogenic powers (to invoke the spirits etc.), its smoked during ayahuascan ceremonies or added to the brew. The snuff is present throughout the process of traditional medicines.
It's our Premium cigar, medium strong flavor, full and decided, besides its great flavor, hand-rolled whole leaves of snuff wich characterize this great product.
100 % Organic and Natural.
Sown and hardvested by shipibo natives.
Scientific name : Nicotiana Rustica
Size :
Contain :
Packing :
Cardboard Box or Bubble pouch bag
Mapacho Cigars for sale online directly from Peru


Disclaimer: Our products are not certified by the FDA neither Health Canada for human or animal consumption. They are sold for incense and soap making purposes, decorative purposes and/or legitimate ethnobotanical research. Our products are not sold and intended for human or animal consumption. The information given about the plants is for academic purposes only and not intended to be used medically. New Herbals, its suppliers, agents, employees and distributors cannot be held accountable for any misuse of the products offer.